Advocate Christ Medical Center (Oak Lawn) [Doctor-attended birth]
Address:
4440 W. 95th St.
Oak Lawn, IL 60453
(708) 684-8000

BIRTHING EQUIPMENT
Bean bag pillow
Birthing stool
Birth Balls
Peanut ball
Reclining chair
Rocking chair
Support rope, sling or bar
PAIN RELIEF
Epidural
Patient controlled epidural
Dedicated L&D anesthesiology team
Narcotics
Nitrous-oxide
TENS unit
SUPPORT
Partner/support person policies
allowed in triage
allowed in labor room
allowed in OR for C-section
allowed in postpartum
allowed in NICU
rooming-in allowed
Doula policies
allowed in triage
allowed in labor room
allowed in OR for C-section
allowed in postpartum
allowed in NICU
Siblings allowed in labor
NEWBORN & POSTPARTUM CARE
After routine delivery...
Suctioning only if needed
Delayed cord clamping (at least 1 minute)
Delayed cord clamping (at least 3 minutes)
Delayed baby bath
Uninterrupted skin-to-skin contact until first feed
Baby rooming-in
Non-emergent nursery care available
All routine newborn exams at mother's bedside
Early discharge - 24 hours or less
Home postpartum visit
BREASTFEEDING
Baby-friendly designation
Lactation consultants (IBCLC) available for consultation on site
24/7 lactation support on site
No formula given to breastfeeding babies in first 48 hours
Donor milk available
ROOM AMENITIES
Dimmable lighting
CD player
DVD player
Music speakers (phone or IPod)
Television
WIFI
Free WIFI
Refrigerator
Microwave
INSURANCE
Accepts Medicaid : Yes
See Insurance comments for details
Languages - In-Person Interpretation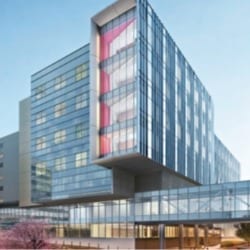 Address:
4440 W. 95th St.
Oak Lawn, IL 60453
(708) 684-8000

Hospital | Doctor-attended birth
Large (between 1600 and 4000 births per year)
Perinatal Level III
Outcomes:
Overall C-Section Rate (risk adjusted) - 29.4%
As compared to Chicago-area hospitals, this rate is:
Primary C-Section Rate (risk adjusted) - 16.2%
As compared to Chicago-area hospitals, this rate is:
VBAC Rate (risk adjusted) - 14.9%
As compared to Chicago-area hospitals, this rate is:
Exclusive Breastfeeding Rate - 45.0%
As compared to Chicago-area hospitals, this rate is:
Number of VBAC deliveries per year- 104
Epidural Rate - no data provided
Overall Induction Rate - no data provided
Early Elective Deliveries - no data provided
Episiotomy Rate - no data provided
Maternity Care Overview
Whether you're expecting your first child or your fifth, our leading labor and delivery staff provides a secure, nurturing environment and a caring response to your family's needs. Our comprehensive services and treatment lead more than 4,000 families a year to choose Advocate Christ Medical Center as the place to have their baby.
A birthing experience you can trust:
Breastfeeding resources: To ensure your and your newborn's nursing experience is a success, we offer breastfeeding support before, during and after your stay with us.
Private labor & delivery suites: Our amenity-filled delivery suites let moms, newborns and families bond with each other in peace, quiet and comfort.
Highest-Level NICU: Our level III neonatal intensive care unit offers the highest level of treatment available in Illinois, so moms and babies can rest easy.
Schedule an Appointment
OB/GYN appointment: Call 1-800-3-ADVOCATE or find an OB/GYN online
Birthing center tour: Take a virtual tour or register online for an in-person visit.
Pre-Register for Your Delivery
Check one more thing off your pregnancy to-do list and pre-register for your delivery at Advocate Christ Medical Center. Talk to your doctor if you'd prefer a printable form in English, Spanish or Polish.
Experience the Difference of Our Birthing Center
Our birthing center merges high-tech, leading-edge care with comfort for families who are expecting. That's why so many families choose Advocate Christ Medical Center to deliver their babies. Our family-centered pregnancy care includes:
International Board Certified Lactation Consultants® ready to help you succeed.
One nurse, your Baby's First Friend, dedicated to caring just for you and your baby and providing the personalized instruction or advice you may need.
Specialized treatment available 24/7 through our level III perinatal facilities.
Your State-Of-The-Art, Private Suite Is Ready
We've thoughtfully designed our private birthing suites so you and your family are comfortable during your stay. Each suite includes enhancements like a dedicated infant-care area equipped with the latest medical technology, a bathroom and shower, Wi-Fi and a flat-screen TV. Our suites also provide soft lighting and soothing decor to promote relaxation. Other features and services at our birthing center include:
Anesthesiologists available 24/7 to provide labor epidurals.
Private post-delivery suites that include a family area.
Cesarean section suites with advanced medical technology capable of accommodating multiple births.
Private recovery rooms for our cesarean moms that include a dedicated infant-care area to keep mom and baby together.
Level III NICU just steps away at Advocate Children's Hospital.
Comprehensive Services
Breastfeeding Support
We work with you throughout your pregnancy and beyond to make sure you're successful at breastfeeding.
Before delivery: We offer prenatal breastfeeding classes on a regular basis to help you prepare. Register online for one today.
During your stay: Our International Board Certified Lactation Consultants® (IBCLC) are available to meet with you after delivery to help with latching issues or to answer your questions.
After birth: In our Lactation Clinic, we offer outpatient breastfeeding consultations with our certified lactation consultants, who can answer your questions or address any concerns that may arise once you're home. After obtaining a prescription for a lactation consultation, have your physician fax your prescription to 708-361-7768. Then call 708-304-9500 to make your appointment. You can also take part in our breastfeeding support group with other moms. Register online now.
Contact us
Use our online form to get more information on our lactation services.
Choosing a Hospital With a Level III NICU Is Important
In case any issues arise during your pregnancy or after labor, a hospital with a NICU is crucial. Our birthing center is just steps away from Advocate Children's Hospital's level III NICU, the highest level available in Illinois. This means we are specially equipped to stabilize and provide intense nursing care to critically ill infants, those who need surgery, and those who need monitoring because of premature birth, low birth weight or other complications.
Family-focused care for premature babies: We give parents of premature infants an active role in their treatment through kangaroo care, which involves using skin-to-skin contact to foster healing.
Learn more about kangaroo care and neonatal intensive care at Advocate Health Care.
Advanced Services for Complex Issues
As a level III perinatal hospital, Advocate Christ has the specialized staff and sophisticated technology necessary to identify and care for at-risk mothers and babies and handle any unexpected issues that may arise during pregnancy or birth.
We offer:
Comprehensive genetic, fetal and maternal diagnostic services.
Skilled staff that includes perinatologists (experts in maternal and fetal health) and neonatologists (experts on newborns).
Facilities designed specifically for high-risk pregnancies and deliveries.
Around-the-clock availability of anesthesia.
Learn more about high-risk pregnancy management at Advocate Health Care.
Compassionate, Lifelong Care by Expert Midwives
Our midwives provide women with dedicated, lifelong care, from gynecology to family planning to general health maintenance. Their compassionate approach and expertise ensures you'll receive the highest level of personalized treatment possible.
Our services include:
Prenatal, labor, delivery and newborn care
Well-woman gynecological care
Pap smears
Contraception
Treatment of vaginal infections
Family planning
Health maintenance counseling
Disease prevention
Planning a Pregnancy or Expecting a Baby?
Midwives support a more natural approach to childbirth and typically handle less patients at a time than OB/GYNs. They focus on healthy vaginal births using medication-free pain relief methods and minimal interventions. They can't perform caesarean sections or surgeries, so a midwife may not be right for you if you're facing a high-risk pregnancy. If you are considering a midwife for your care, schedule an appointment with one to learn more about his or her services.
MATERNITY SERVICE TOURS
To schedule a tour of the maternity service, call 1-800-3-ADVOCATE (1-800-323-8622) or register online for a tour. Use class code 1B12 when registering. You can also see a virtual tour by clicking below.
CHILDBIRTH CLASSES
The hospital offers classes on childbirth, breastfeeding and newborn care.  You can register online here.
EXTERNAL​ ​REVIEWS
Last updated: December 29, 2021
IMPORTANT DISCLAIMER: The content on BirthGuide does not provide medical advice. Always consult a medical provider for diagnosis and treatment. The listing of an individual or entity in this Birth Settings Directory does not constitute an endorsement or recommendation by BirthGuide. Here's where you can find out where the information comes from and access a Glossary that explains the search terms used. By using this directory you agree to be bound by the BirthGuide Terms & Conditions of Use. If you do not wish to be bound by these terms and conditions, please do not access the directory.