Loyola University Medical Center (Maywood)
Address:
2160 S. First Ave
Maywood, IL 60153
(888) 584-7888

BIRTHING EQUIPMENT
Bean bag pillow
Birthing stool
Birth Balls
Peanut ball
Reclining chair
Rocking chair
Support rope, sling or bar
PAIN RELIEF
Epidural
Patient controlled epidural
Dedicated L&D anesthesiology team
Narcotics
Nitrous-oxide
TENS unit
SUPPORT
Partner/support person policies
allowed in triage
allowed in labor room
allowed in OR for C-section
allowed in postpartum
allowed in NICU
rooming-in allowed
Doula policies
allowed in triage
allowed in labor room
allowed in OR for C-section
allowed in postpartum
allowed in NICU
Siblings allowed in labor
NEWBORN & POSTPARTUM CARE
After routine delivery...
Suctioning only if needed
Delayed cord clamping (at least 1 minute)
Delayed cord clamping (at least 3 minutes)
Delayed baby bath
Uninterrupted skin-to-skin contact until first feed
Baby rooming-in
Non-emergent nursery care available
All routine newborn exams at mother's bedside
Early discharge - 24 hours or less
Home postpartum visit
BREASTFEEDING
Baby-friendly designation
Lactation consultants (IBCLC) available for consultation on site
24/7 lactation support on site
No formula given to breastfeeding babies in first 48 hours
Donor milk available
ROOM AMENITIES
Dimmable lighting
CD player
DVD player
Music speakers (phone or IPod)
Television
WIFI
Free WIFI
Refrigerator
Microwave
INSURANCE
Accepts Medicaid : Yes
See Insurance comments for details
Languages - In-Person Interpretation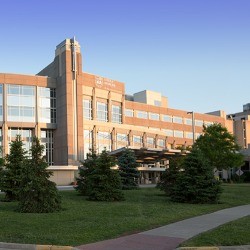 Address:
2160 S. First Ave
Maywood, IL 60153
(888) 584-7888

Hospital | Doctor-attended birth
Medium (between 900 and 1600 births per year)
Perinatal Level III
Outcomes:
Overall C-Section Rate (risk adjusted) - 30.3%
As compared to Chicago-area hospitals, this rate is:
Primary C-Section Rate (risk adjusted) - 17.8%
As compared to Chicago-area hospitals, this rate is:
VBAC Rate (risk adjusted) - 18.6%
As compared to Chicago-area hospitals, this rate is:
Exclusive Breastfeeding Rate - 72.8%
As compared to Chicago-area hospitals, this rate is:
Number of VBAC deliveries per year- 37
Epidural Rate - no data provided
Overall Induction Rate - no data provided
Early Elective Deliveries - 1 %
Episiotomy Rate - 1%
Maternity Care Overview
"Loyola Medicine provides comprehensive, multidisciplinary obstetrics care for women considering pregnancy, as well as pregnant patients and their developing babies. Whether you are expecting a normal delivery or have a medical condition that requires extra care, our dedicated team of doctors, surgeons, sonographers, pediatric subspecialists, genetic counselors, perinatologists, neonatologists and nurses will provide expert care for you and your baby during this very special time."
"Loyola provides truly integrated obstetric care before, during and after delivery. When you come to Loyola University Medical Center, your team is prepared for the expected and the unexpected. You can depend on care that will meet and exceed your needs in comfortable setting."
Comfortable rooms: "Loyola's comfortable rooms, which are designed with families in mind, are outfitted with state-of-the-art equipment. Loyola's rooms support rooming-in with your baby, so you won't have to be separated from your infant during this time of bonding."
High Risk Care: "For patients with high-risk pregnancies, Loyola's maternal-fetal medicine (MFM) specialists will provide you with individualized prenatal care and help to manage any pre-existing conditions that may be worrisome during this time. They will coordinate all tests to monitor your baby's health and development. Your MFM doctor will check for birth defects, blood disorders and heart problems and arrange surgery if necessary. Your doctor also will coordinate care with your obstetrician to care for any health problems experienced by the mother after delivery, such as infections, heavy bleeding or hypertension. "
Level III Perinatal Center: "Loyola's state-designated Level III Perinatal Center has a proven track record of improving survival rates of high-risk babies born to mothers who have conditions that require advanced medical or surgical care. Our skilled clinicians provide coordinated high-risk obstetric and neonatal services for some of the most challenging cases in Illinois, serving nine regional hospitals with a combined total of 9,500 babies delivered each year. We provide individualized consultations in both inpatient and outpatient settings and are available to arrange transportation for high-risk babies to Loyola on a 24/7 basis. Our board-certified specialists are on-call around the clock, seven days a week."
Expert care for low-birth-weight babies: "Loyola has one of the state's highest survival rates for low-birth-weight infants. Our neonatal intensive care unit (NICU) cares for more than 400 critically ill newborns each year. Loyola's doctors have successfully delivered more than 3,000 babies who weighed less than two pounds, including the world's smallest and second-smallest surviving babies. In addition, Loyola's NICU serves as a national model for care with a survival rate that is among the best in the country. We are well-equipped to care for any difficulty you or your baby may have."
Baby Friendly Hospital: "Loyola is also the only academic medical center in the Chicago area to win the coveted Baby-Friendly USA designation, a reflection of our dedication to help mothers successfully breastfeed their newborns. This is part of the Baby-Friendly Hospital Initiative that was launched in 1991 by the World Health Organization and UNICEF."
Quality care: "As part of an academic medical center, Loyola's expert clinicians perform and teach the latest surgical techniques and medical treatments in numerous locations across the Chicago area. In addition, our nurses have earned Magnet status, which means they have been recognized for delivering the highest level of care."
MATERNITY SERVICE TOURS
To schedule a tour of the maternity service, please call 708-216-4300.
CHILDBIRTH CLASSES
Loyola offers a range of classes and support for expectant parents, including classes on breastfeeding, Cesarean birth and vaginal birth, childbirth preparation and infant care. You can learn more here.
MATERNITY CARE CERTIFICATIONS & AWARDS
BlueCross BlueShield of Illinois has recognized Loyola's maternity care with its Blue Distinction® Center+ designation.
Loyola University Medical Center has won the coveted Baby-Friendly USA designation.
EXTERNAL​ ​REVIEWS
Last updated: January 20, 2022
IMPORTANT DISCLAIMER: The content on BirthGuide does not provide medical advice. Always consult a medical provider for diagnosis and treatment. The listing of an individual or entity in this Birth Settings Directory does not constitute an endorsement or recommendation by BirthGuide. Here's where you can find out where the information comes from and access a Glossary that explains the search terms used. By using this directory you agree to be bound by the BirthGuide Terms & Conditions of Use. If you do not wish to be bound by these terms and conditions, please do not access the directory.