Palos Community Hospital (Palos Heights)
Address:
12251 S. 80th Ave
Palos Heights, IL 60463
(708) 923-4000

BIRTHING EQUIPMENT
Bean bag pillow
Birthing stool
Birth Balls
Peanut ball
Reclining chair
Rocking chair
Support rope, sling or bar
PAIN RELIEF
Epidural
Patient controlled epidural
Dedicated L&D anesthesiology team
Narcotics
Nitrous-oxide
TENS unit
SUPPORT
Partner/support person policies
allowed in triage
allowed in labor room
allowed in OR for C-section
allowed in postpartum
allowed in NICU
rooming-in allowed
Doula policies
allowed in triage
allowed in labor room
allowed in OR for C-section
allowed in postpartum
allowed in NICU
Siblings allowed in labor
NEWBORN & POSTPARTUM CARE
After routine delivery...
Suctioning only if needed
Delayed cord clamping (at least 1 minute)
Delayed cord clamping (at least 3 minutes)
Delayed baby bath
Uninterrupted skin-to-skin contact until first feed
Baby rooming-in
Non-emergent nursery care available
All routine newborn exams at mother's bedside
Early discharge - 24 hours or less
Home postpartum visit
BREASTFEEDING
Baby-friendly designation
Lactation consultants (IBCLC) available for consultation on site
24/7 lactation support on site
No formula given to breastfeeding babies in first 48 hours
Donor milk available
ROOM AMENITIES
Dimmable lighting
CD player
DVD player
Music speakers (phone or IPod)
Television
WIFI
Free WIFI
Refrigerator
Microwave
INSURANCE
Accepts Medicaid : Yes
See Insurance comments for details
Languages - In-Person Interpretation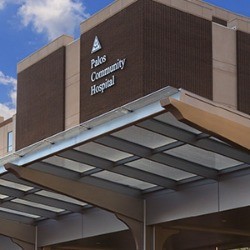 Address:
12251 S. 80th Ave
Palos Heights, IL 60463
(708) 923-4000

Hospital | Doctor-attended birth
Small (fewer than 900 births per year)
Perinatal Level II
Outcomes:
Overall C-Section Rate (risk adjusted) - 27.0%
As compared to Chicago-area hospitals, this rate is:
Primary C-Section Rate (risk adjusted) - 14.6%
As compared to Chicago-area hospitals, this rate is:
VBAC Rate (risk adjusted) - 7.0%
As compared to Chicago-area hospitals, this rate is:
Exclusive Breastfeeding Rate - 51.9%
As compared to Chicago-area hospitals, this rate is:
Number of VBAC deliveries per year- 6
Epidural Rate - no data provided
Overall Induction Rate - no data provided
Early Elective Deliveries - 0 %
Episiotomy Rate - 10%
Maternity Care Overview
"When you're expecting a baby, you have many decisions to make. One of the most important is where to deliver your child. At Palos Hospital, we can help you start — or add to — your family in a safe, comfortable and caring environment. We consider it a privilege to be a part of your baby's birth day.
Our philosophy of care is family-centered. From the moment of birth, we give parents the opportunity to bond with their infant and to form a close family connection. At Palos, we celebrate the Golden Hour starting from birth with skin-to-skin contact for the first hour of the newborn's life. This allows new parents get to know and bond with their baby. Other family members are welcome to visit following the Golden Hour after mom and baby have had time to rest from the big event."
"At Palos, you will experience single-room maternity care," where "your labor, delivery, recovery, and postpartum stay will all take place in the same single private room," as well as "a compassionate and experienced care team, state-of-the-art technology, one-to-one nursing care during labor and much more."
Breastfeeding support: "Recognizing the significant health benefits that breastfeeding provides to mothers and babies, Palos Health supports and advocates for breastfeeding mothers and their infants."
"Breastfeeding is a learned skill. Information, assistance and support can help make the breastfeeding experience successful and rewarding. A registered nurse, who also is an International Board Certified lactation counselor or lactation consultant, staffs the Lactation Center at our hospital in Palos Heights, IL."
"The lactation counselor or lactation consultant focuses on the needs of the nursing couple and is committed to promoting positive breastfeeding experiences. She provides professional, individualized personal education and support as well as ongoing assistance for establishing and maintaining a successful nursing relationship."
"Prior to your delivery, take advantage of our Breastfeeding Basics class and learn about the benefits of breastfeeding, as well as infant positioning techniques, strategies for pumping and more."
"After you give birth to your little one,the lactation consultant or counselor will see you during your stay to offer instruction, assistance and guidance as you begin breastfeeding.The consultant or counselor will answer all of your questions as you prepare to take your baby home."
"After you and baby go home, Palos Health's Nursing Mom's Network offers continued support for those learning to breastfeed. In a nurturing environment, breastfeeding mothers share their experiences and receive ongoing guidance and support from an experienced Maternal Child Health Registered Nurse, Lactation Consultant or Counselor. Babies (newborn to one year old) are welcome."
Photography: "Palos features Baby's First Photo upon request. A professional photographer from Bella Baby will photograph your newborn, and you will have the option to order prints."
MATERNITY SERVICE TOURS
Free tours of the birthing center are available. Call (708) 226-2300 to register.
CHILDBIRTH CLASSES
Palos Health offers a range of family and maternity care education, including childbirth preparation, baby care, breastfeeding and classes for siblings and grandparents. You can see a schedule of classes here. The hospital also offers a library of educational resources that you can access here.
EXTERNAL​ ​REVIEWS
Last updated: November 4, 2023
IMPORTANT DISCLAIMER: The content on BirthGuide does not provide medical advice. Always consult a medical provider for diagnosis and treatment. The listing of an individual or entity in this Birth Settings Directory does not constitute an endorsement or recommendation by BirthGuide. Here's where you can find out where the information comes from and access a Glossary that explains the search terms used. By using this directory you agree to be bound by the BirthGuide Terms & Conditions of Use. If you do not wish to be bound by these terms and conditions, please do not access the directory.