Macneal Hospital (Berwyn)
Address:
3249 S. Oak Park Ave
Berwyn, IL 60402
(708) 783-9100

PAIN RELIEF
Epidural
Patient controlled epidural
24/7 epidural (anesthesiologist on site)
Narcotics
Nitrous-oxide
TENS machine
SUPPORT
Doulas on staff
Doulas welcome
Siblings allowed during labor
Partner rooming-in
One-on-one nursing care
NEWBORN & POSTPARTUM CARE
After routine delivery...
Suctioning only if needed
Delayed cord clamping
Skin-to-skin contact until first feed
Baby rooming-in
All baby exams in mother's room
Early discharge
Home postpartum visit
BREASTFEEDING
Baby-friendly designation
Lactation consultants on-site
24/7 lactation support on-site
BIRTHING EQUIPMENT
Bean bag pillow
Birthing stool
Birth Balls
Peanut ball
Reclining chair
Rocking chair
Support rope, sling or bar
ROOM AMENITIES
Dimmable lighting
CD player
DVD player
Music speakers (phone or IPod)
Television
WIFI
Free WIFI
Refrigerator
Microwave
INSURANCE
Accepts Medicaid : Yes
See Insurance comments for details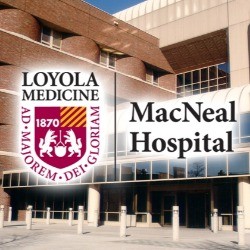 Address:
3249 S. Oak Park Ave
Berwyn, IL 60402
(708) 783-9100

Hospital | Doctor-attended birth
Medium (between 900 and 1600 births per year)
Perinatal Level II
Outcomes:
Overall C-Section Rate (risk adjusted) - 27.1%
As compared to Chicago-area hospitals, this rate is:
Primary C-Section Rate (risk adjusted) - 18.5%
As compared to Chicago-area hospitals, this rate is:
VBAC Rate (risk adjusted) - 18.3%
As compared to Chicago-area hospitals, this rate is:
Exclusive Breastfeeding Rate - 58.2%
As compared to Chicago-area hospitals, this rate is:
Number of VBAC deliveries per year- 46
Epidural Rate - no data provided
Overall Induction Rate - no data provided
Early Elective Deliveries - 0 %
Episiotomy Rate - 9%
Maternity Care Overview
"When it comes to the health and safety of you and your baby, nothing but the best will do. At MacNeal Hospital, we are committed to making your pregnancy and childbirth experience as easy and enjoyable as possible. We offer comprehensive, expert care before and after your delivery. Our specialized treatment helps ensure the health and happiness of you and your family."
"Comprehensive maternity services created with you and your baby in mind: At MacNeal, we understand that every woman and pregnancy is unique. During these special moments, we want you to feel comfortable in the knowledge that our comprehensive team of obstetricians, pediatricians, neonatologists and medical staff has the training, expertise and experience to guide you through the labor and delivery process. We offer a full range of obstetrical services, including:
Level II neonatal nursery – capable of caring for late-preterm infants, from gestation 32 weeks to 37 weeks
Access to certified lactation consultant – breastfeeding counselors and a lactation consultant are available for mothers after delivery to answer questions and assist with newborn care and breastfeeding
Special delivery options – our staff is skilled in a variety of special delivery methods to address the delivery options of our patients with a supportive clinical culture for women who would like to try vaginal birth after C-section (VBAC)
Advanced fetal monitoring – closely records uterine and fetal heart activity to catch early signs of complication for inpatients and outpatients
Personalized care – from our friendly, family-oriented staff who are dedicated to serving you and your expanding family
Bilingual –  many nurses and physicians at MacNeal Hospital speak English and Spanish for the accommodation and comprehensive care of our patients."
Education: "Whether you are expecting your first child or the newest addition to your family, our goal at MacNeal Hospital is to offer you all the information, education, guidance and support you need. New parents naturally want to be prepared for all the possibilities. Our birthing staff is prepared to make you feel at ease and informed and is ready to provide specialized care should your newborn need it."
INSURANCE
Click here to see Insurance Accepted.
For questions about insurance, call:
MacNeal Hospital offers assistance with financial and billing questions and concerns.
Informational pages about insurance, billing, financial assistance and online bill payment can be viewed here , or call the number above with specific questions.
MATERNITY SERVICE TOURS
To register for a tour of the Family Birth Center or for more information about tours, call 877-834-7264.
CHILDBIRTH CLASSES
MacNeal Hospital offers a range of preparation tools and educational opportunities designed for expectant parents and families, including classes on childbirth preparation, breastfeeding, childcare and diabetes prevention.
For registration or more information call 877-834-7264 or search for a class here.
EXTERNAL​ ​REVIEWS
Last updated: June 17, 2019