Northwest Community Healthcare Hospital (Arlington Heights)
Address:
800 Central Road
Arlington Heights, IL 60005
(847) 618-1000

BIRTHING EQUIPMENT
Bean bag pillow
Birthing stool
Birth Balls
Peanut ball
Reclining chair
Rocking chair
Support rope, sling or bar
PAIN RELIEF
Epidural
Patient controlled epidural
Dedicated L&D anesthesiology team
Narcotics
Nitrous-oxide
TENS unit
SUPPORT
Partner/support person policies
allowed in triage
allowed in labor room
allowed in OR for C-section
allowed in postpartum
allowed in NICU
rooming-in allowed
Doula policies
allowed in triage
allowed in labor room
allowed in OR for C-section
allowed in postpartum
allowed in NICU
Siblings allowed in labor
NEWBORN & POSTPARTUM CARE
After routine delivery...
Suctioning only if needed
Delayed cord clamping (at least 1 minute)
Delayed cord clamping (at least 3 minutes)
Delayed baby bath
Uninterrupted skin-to-skin contact until first feed
Baby rooming-in
Non-emergent nursery care available
All routine newborn exams at mother's bedside
Early discharge - 24 hours or less
Home postpartum visit
BREASTFEEDING
Baby-friendly designation
Lactation consultants (IBCLC) available for consultation on site
24/7 lactation support on site
No formula given to breastfeeding babies in first 48 hours
Donor milk available
ROOM AMENITIES
Dimmable lighting
CD player
DVD player
Music speakers (phone or IPod)
Television
WIFI
Free WIFI
Refrigerator
Microwave
INSURANCE
Accepts Medicaid : Yes
See Insurance comments for details
Languages - In-Person Interpretation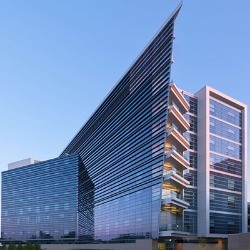 Address:
800 Central Road
Arlington Heights, IL 60005
(847) 618-1000

Hospital | Doctor-attended birth
Large (between 1600 and 4000 births per year)
Perinatal Level III
Outcomes:
Overall C-Section Rate (risk adjusted) - 25.6%
As compared to Chicago-area hospitals, this rate is:
Primary C-Section Rate (risk adjusted) - 13.7%
As compared to Chicago-area hospitals, this rate is:
VBAC Rate (risk adjusted) - 9.1%
As compared to Chicago-area hospitals, this rate is:
Exclusive Breastfeeding Rate - 56.9%
As compared to Chicago-area hospitals, this rate is:
Number of VBAC deliveries per year- 48
Epidural Rate - no data provided
Overall Induction Rate - no data provided
Early Elective Deliveries - 0 %
Episiotomy Rate - 14.4%
Maternity Care Overview
"We provide a full range of advanced medical services and conveniences for you and your baby to keep both of you comfortable, healthy, safe and happy throughout the childbirth experience and beyond.
SKIN TO SKIN
Your baby will be placed skin-to-skin with you right after birth.
If you have a vaginal birth and there are no complications, your baby will be placed directly on your chest after delivery and will remain there until the first breastfeed or for an hour for the formula-feeding mother
If you have a cesarean birth, and there are no complications, your baby will be placed skin-to-skin with you as soon as you are stable and alert, usually in the recovery room. We also encourage skin-to-skin holding with the father or other labor support person
The mother-baby couplet is transferred together to a private room in the Women and Infants area. We encourage minimal separation during your stay
Skin-to-skin contact is important for all babies because it helps with bonding, keeps your baby warm, keeps your baby's blood sugar in a normal range and gets breastfeeding off to a great start. Babies who are held this way also cry less. Skin-to-skin holding allows your baby a gentle entry into the world and assists your baby to progress through a number of amazing developmental skills.
WARM, SUPPORTIVE AND PRIVATE LABOR AND DELIVERY ROOMS
Spacious, private, comfortable labor and delivery rooms that are equipped with the latest technologies and amenities for you and your child's safety and comfort
Sofas, large in-room bathroom with shower, work area and storage space so your partner can comfortably stay with you overnight
Medical equipment is fully integrated into each private room to support the transition from labor to delivery or to accommodate emergency procedures
Special recessed, remote-controlled lighting for physician and staff during childbirth
Three C-section operating rooms are available on the unit, just in case
A FAMILY-CENTERED ENVIRONMENT FOCUSED ON YOU AND YOUR PARTNER
Warm and inviting area filled with windows, natural light and space to walk around
Large waiting area features laptop connection, a quiet area, a kids' zone and a TV
Flexible visiting policy where the mother determines the number of guests visiting at one time
Lockers for partners are provided in the operating suite as well as centrally located in the unit
Cell phones can be used throughout the hospital to keep in touch—the only restrictions are in areas of high technology, such as the operating room
If your support person needs to leave the unit to visit the cafeteria, the staff will be happy to call his or her cell phone to keep in touch
A video-monitored indoor path for moms in labor who want to walk around
ANESTHESIA PAIN CONTROL
Anesthesia pain control is a very important part of the labor and delivery process. An anesthesiologist from Northwest Suburban Anesthesiologists will work very closely with your obstetrician and labor and delivery nurses to provide you the most state-of-the-art pain-control options available. The safety of you and your baby are our top priority, and our pain-management options are designed with this in mind. Therefore, NCH's Anesthesia Department has an obstetrics-dedicated anesthesiologist available around the clock, every day of the year.
WELL-BABY NURSERY
Our experienced staff is available to care for your baby anytime, day or night, if the need arises
We support the mother's choice to send her baby to the nursery, but we encourage rooming in, as it is proven that mothers actually rest better if the baby remains with them
CARING AND EXPERIENCED CHILDBIRTH STAFF
Specially trained nurses and board-certified obstetricians are in Labor and Delivery 24/7, working in conjunction with your attending OB during childbirth
Obstetric hospitalists are available to care for you in an emergency until your own obstetrician arrives
Maternal-Fetal Medicine physicians from NorthShore University HealthSystem make daily rounds and are available 24/7 to consult with your attending OB for high-risk pregnancies
An anesthesiologist dedicated to labor and delivery is available 24 hours a day
A neonatologist and NICU nurse attend all high-risk deliveries
ADVANCED SERVICES FOR ADDED ASSURANCE
Rapid-response teams are on standby at all times, just in case
Level III Neonatal Intensive Care Unit (NICU) staffed by Lurie Children's neonatologists deliver advanced care, attend high-risk deliveries and provide 24/7 on-site coverage to the babies in the NICU
Advanced telemedicine system for additional consultations"
All patients are accepted regardless of insurance.
Patient ​Acceptance ​Guidelines
Risk guidelines for VBAC
Trial of labor after cesarean (TOLAC) is not recommended after previous cesarean section with a classical incision, certain uterine surgeries such as myomectomy, if you have had a prior uterine rupture or medical/obstetrical problems preventing vaginal delivery.  VBAC/TOLAC should be discussed with your obstetric provider.
MATERNITY SERVICE TOURS
Tours of the Women's Center are available on Monday evenings or Saturday mornings. Tours are free, but registration is required. No children under 10. Children under 10 are encouraged to attend a Super Brothers/Super Sisters class.
Click here to view a schedule of upcoming tours.
CHILDBIRTH CLASSES
NCH offers a range of classes for expectant families, including childbirth preparation, online childbirth preparation, breastfeeding, new baby care, infant and child CPR, and siblings classes. Search in the category "Expectant parents" to see a schedule of classes here.
MATERNITY CARE CERTIFICATIONS & AWARDS
EXTERNAL​ ​REVIEWS
Last updated: January 20, 2022
IMPORTANT DISCLAIMER: The content on BirthGuide does not provide medical advice. Always consult a medical provider for diagnosis and treatment. The listing of an individual or entity in this Birth Settings Directory does not constitute an endorsement or recommendation by BirthGuide. Here's where you can find out where the information comes from and access a Glossary that explains the search terms used. By using this directory you agree to be bound by the BirthGuide Terms & Conditions of Use. If you do not wish to be bound by these terms and conditions, please do not access the directory.