Northwestern Medicine Lake Forest Hospital (Lake Forest)
Address:
1000 N. Westmoreland
Lake Forest, IL 60045
(847) 535-6352

BIRTHING EQUIPMENT
Bean bag pillow
Birthing stool
Birth Balls
Peanut ball
Reclining chair
Rocking chair
Support rope, sling or bar
PAIN RELIEF
Epidural
Patient controlled epidural
Dedicated L&D anesthesiology team
Narcotics
Nitrous-oxide
TENS unit
SUPPORT
Partner/support person policies
allowed in triage
allowed in labor room
allowed in OR for C-section
allowed in postpartum
allowed in NICU
rooming-in allowed
Doula policies
allowed in triage
allowed in labor room
allowed in OR for C-section
allowed in postpartum
allowed in NICU
Siblings allowed in labor
NEWBORN & POSTPARTUM CARE
After routine delivery...
Suctioning only if needed
Delayed cord clamping (at least 1 minute)
Delayed cord clamping (at least 3 minutes)
Delayed baby bath
Uninterrupted skin-to-skin contact until first feed
Baby rooming-in
Non-emergent nursery care available
All routine newborn exams at mother's bedside
Early discharge - 24 hours or less
Home postpartum visit
BREASTFEEDING
Baby-friendly designation
Lactation consultants (IBCLC) available for consultation on site
24/7 lactation support on site
No formula given to breastfeeding babies in first 48 hours
Donor milk available
ROOM AMENITIES
Dimmable lighting
CD player
DVD player
Music speakers (phone or IPod)
Television
WIFI
Free WIFI
Refrigerator
Microwave
INSURANCE
Accepts Medicaid : Yes
See Insurance comments for details
Languages - In-Person Interpretation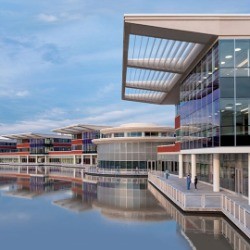 Address:
1000 N. Westmoreland
Lake Forest, IL 60045
(847) 535-6352

Hospital | Doctor-attended birth
Medium (between 900 and 1600 births per year)
Perinatal Level II+
Outcomes:
Overall C-Section Rate (risk adjusted) - 27.5%
As compared to Chicago-area hospitals, this rate is:
Primary C-Section Rate (risk adjusted) - 15.6%
As compared to Chicago-area hospitals, this rate is:
VBAC Rate (risk adjusted) - 10.5%
As compared to Chicago-area hospitals, this rate is:
Exclusive Breastfeeding Rate - 70.7%
As compared to Chicago-area hospitals, this rate is:
Number of VBAC deliveries per year- 25
Epidural Rate - no data provided
Overall Induction Rate - no data provided
Early Elective Deliveries - no data provided
Episiotomy Rate - no data provided
Maternity Care Overview
"Services: Providing you and your baby with the best beginning is our utmost priority. Our board-certified obstetrician/gynecologists deliver the most current medical expertise with old-fashioned, personalized attention. They provide optimal care with respect, compassion and responsiveness to you. These physicians listen to any concerns you have and take time to answer your questions. Your obstetrician will partner with you to plan and achieve the birth experience you want.
Lake Forest Hospital features state-of-the-art resources for testing and treatment throughout pregnancy and childbirth. Our sophisticated diagnostic capabilities and advanced monitoring identify unexpected issues as early as possible."
"Your birth plan: Childbirth is an experience unique to each woman and family, and we understand that you may have certain requests regarding the birth of your child. Discussing and creating a birth plan with your physician in advance will help us ensure that your wishes are considered. Topics to discuss include the use of safe pain management medications, natural childbirth, the option to bank your child's cord blood and the administration of routine vaccinations.
Our nurses are passionate about their role. Their blend of competence and compassion can make a real difference in your childbirth experience and your first moments with your new baby. They'll encourage you, hold your hand and help ease you through the childbirth process. All of our labor and delivery nurses have advanced certification in fetal heart monitoring—a vital asset during delivery—as well as advanced cardiac life support.
Our nurses are helpful well before your delivery. While you're pregnant, they offer instruction on prenatal care and childbirth expectations to prepare you for a healthy birthing experience. Afterward, your nurse can provide personalized guidance on infant care right in your room, such as tips for holding, bathing and soothing your baby. If you choose to breastfeed, they will also provide lactation support and education.
To provide exceptional care during your stay, our nurses conduct hourly rounding. This means they will check on you regularly, but they won't wake you unless it's necessary to monitor your clinical condition. Your nurses will keep you informed about procedures and tests, and they will discuss your pain management and mobility needs to help ensure your comfort. And when it's time for a shift change, the outgoing nurse and incoming nurse will conduct a bedside report in your room so that you know your needs are accurately communicated."
"Skin–to–skin cuddling: We encourage you to "room in" with your baby. Keeping your baby nearby promotes bonding. Cuddling your baby, especially with skin-to-skin contact, nurtures the child's emotional comfort, brain development, breathing and heart rate. Studies have shown that babies who are with their mothers cry less, soothe more quickly and get more rest. They also take in more breast milk, gain more weight per day and are less likely to develop jaundice.
We recognize the importance of newborn bonding to parents as well as other family members. Beginning soon after the delivery of your baby, we advocate skin-to-skin contact with your newborn. All new parents and grandparents are encouraged to hold the newborn baby this way for a minimum of 30 minutes, three times a day."
MATERNITY SERVICE TOURS
The hospital offers a free tour of the labor & delivery and postpartum floor.  You can see a schedule of upcoming tours here. Please call 312.926.8400 to register.
CHILDBIRTH CLASSES
Lake Forest Hospital offers a range of childbirth classes. For course registration, program specifics or additional information, call the Childbirth Education Line at 847.535.6182 or email . You can also see a schedule of classes for expectant parents here.
EXTERNAL​ ​REVIEWS
Last updated: March 8, 2022
IMPORTANT DISCLAIMER: The content on BirthGuide does not provide medical advice. Always consult a medical provider for diagnosis and treatment. The listing of an individual or entity in this Birth Settings Directory does not constitute an endorsement or recommendation by BirthGuide. Here's where you can find out where the information comes from and access a Glossary that explains the search terms used. By using this directory you agree to be bound by the BirthGuide Terms & Conditions of Use. If you do not wish to be bound by these terms and conditions, please do not access the directory.